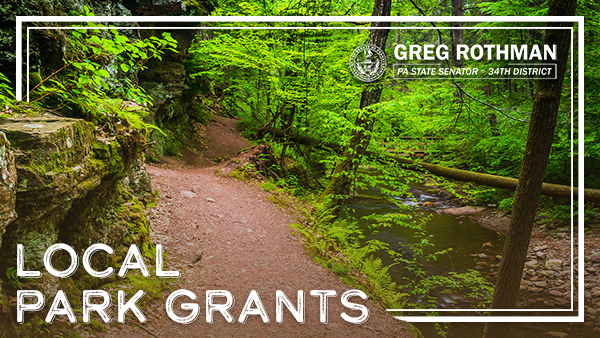 HARRISBURG – Sen. Greg Rothman (R-34) today announced the approval of state funding for multiple parks and recreation projects in Cumberland and Dauphin counties.
"Parks and outdoor recreation are a key part of vibrant and thriving communities and I'm pleased to announce this state assistance for local projects," Rothman said.
The following grants were approved by the state Department of Conservation and Natural Resources:
Cumberland County
Doublin Gap Inc. will receive $550,563 for the development of Doublin Gap MX Park in Hopewell Township. The work will include rehabilitation of observation facilities and pedestrian tunnels, ADA access, landscaping and other improvements.
Friends of Historic Heishmans Mill will receive $92,600 for the development of Heishman's Mill Portage along the Conodoguinet Creek in West Pennsboro Township. The project includes construction of a non-motorized boat take-out, ADA access, landscaping and other improvements.
North Newton Township will receive $48,900 to be used toward the acquisition of approximately 4.4 acres along Oakville Road in North Newton Township for an addition to North Newton Township Park.
Silver Spring Township will receive $60,000 to prepare a trail study for the development of a township trail system.
Dauphin County
Manada Conservancy will receive $159,400 as payment toward two conservation easements on approximately 208 acres in Wayne Township for the protection of forested habitat and fishing access along Powells Creek.
Millersburg Borough will receive $190,000 for the rehabilitation of Market Square Park. The work will include renovation of the gazebo, construction of pedestrian walkways, installation of lighting and utilities, ADA access, landscaping and other improvements.
The grants were awarded through the Community Conservation Partnerships Program, which helps fund planning, acquisition and development of public parks, recreation areas, trails and more.
CONTACT: Morgan Wagner