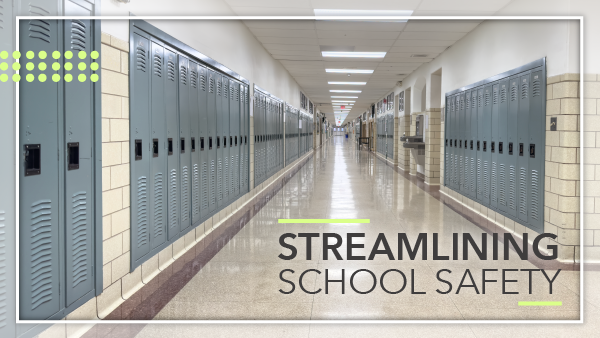 HARRISBURG – The Senate passed several key provisions today to consolidate and streamline the state's school safety programs and ensure greater coordination in keeping Pennsylvania children safe, according to Sen. Greg Rothman (R-34).
House Bill 27 would consolidate school safety programs and operations under the Pennsylvania Commission on Crime and Delinquency (PCCD), which currently manages the highly successful, bipartisan School Safety and Security Grant Program created by the Senate in 2018.
"Keeping students safe is paramount, and it's critical that we give schools the tools they need to ensure a safe and secure education," Rothman said.
The legislation would transfer several functions of the Office of Safe Schools – including the Safe Schools Targeted Grants for school safety equipment and programs and School Police Officers/School Resource Officers – to PCCD. School districts would also be required to share additional information on the number and type of School Police Officers and School Resource Officers, as well as data on powers granted to those entities.
The legislation would also create a new Executive Committee under PCCD to review school safety issues and to identify current and emerging trends. The committee would study data on incidents created through the Safe2Say Something program, review information arising from the county safe schools' collaborative, help identify and prevent threats of targeted violence in school settings and utilize best practices among school entities to boost student safety.
This would bill also provide for assistance in developing a safe schools collaborative with technical assistance provided by the Pennsylvania Emergency Management Agency, the Pennsylvania State Police, and the Office of Homeland Security, to ensure schools and counties can develop best practices for emergency response.
Streamlining these operations under a single entity and improving coordination will ensure greater efficiency and effectiveness of the programs, Rothman said.
The school safety improvements are intended to build on years of efforts by the Senate to ensure Pennsylvania students can all learn in safe environments. In addition, Safe2Say Something, an anonymous school threat reporting system, was implemented in Pennsylvania in 2018 and is now held up as a national model for other states to follow. The system has led to more than 100,000 tips of potential student safety concerns.
House Bill 27 would also allow for the implementation of $100 million that was included in the 2023-24 state budget for K-12 mental health programs. Bipartisan funding for the programs has been delayed due to the House of Representatives not returning to session to pass budget implementation language over the summer.
The legislation would also provide additional flexibility for school districts that are experiencing shortages of substitute teachers. The bill would extend temporary provisions established during the pandemic that waived certain requirements and allowed for temporary certification of substitute teachers.
"It's not enough to simply create programs and allocate resources; we have to do so in the most efficient and effective manner possible," Rothman said.
The legislation has been sent back to the House of Representatives for consideration.
CONTACT: Morgan Wagner