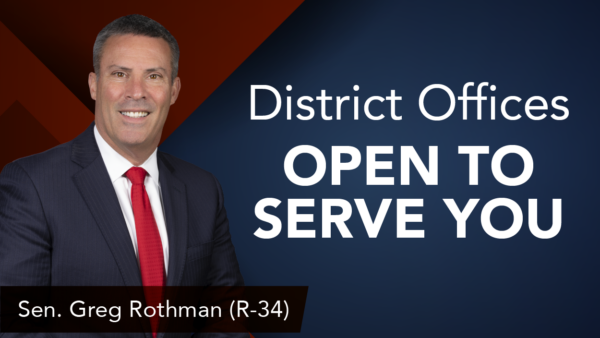 HARRISBURG – State Sen. Greg Rothman (R-34) is inviting constituents to May open house events at his district offices in New Bloomfield, Silver Spring and Shippensburg.
"I hope residents will come to one of my upcoming open house events, which will be great opportunities to meet with me and my staff and learn more about the services we can provide," Rothman said.
New Bloomfield Open House
Thursday, May 4
5-7 p.m.
25 East McClure St., New Bloomfield
Silver Spring Open House
Wednesday, May 17
5-7 p.m.
4 Flowers Drive, Suite 3, Mechanicsburg
Shippensburg Open House
Thursday, May 18
5-7 p.m.
81 Walnut Bottom Road, Shippensburg
Light refreshment will be served. RSVPs are not required.
Rothman was sworn in to represent the 34th Senate District in January. The district covers all of Perry County, most of Cumberland County and northern Dauphin County.
CONTACT: Morgan Wagner