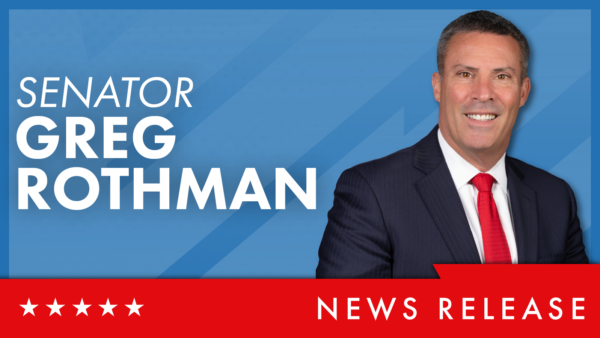 HARRISBURG – State Sen. Greg Rothman (R-34) today was named chairman of the Senate Game and Fisheries Committee, vice chairman of the Senate Agriculture and Rural Affairs Committee and member of the Appropriations Committee, among other committee assignments.
The Senate Game and Fisheries Committee helps manage and protect the commonwealth's natural resources and considers legislation affecting hunting, fishing and conservation. The Agriculture and Rural Affairs Committee considers legislation and holds hearings on issues important to Pennsylvania farming and provides oversight of regulations proposed by the Pennsylvania Department of Agriculture.
"Hunting and fishing are an important tradition and way of life in Pennsylvania. I'm excited to lead the committee that works on policy issues impacting Pennsylvania families and outdoorsmen, encourages recreation and aids in the conservation of our natural resources.," said Rothman. "Agriculture is critical to our state and local economies, public health and national independence. Serving as vice chairman of the panel supporting one of Pennsylvania's main industries is an honor. The General Assembly stands ready to address the challenges facing Pennsylvania farm families."
Senate President Pro Tempore Kim Ward (R-39) also appointed Rothman to serve on five other Senate committees in the 2023-24 legislative session. The committees provide legislative oversight and help shape the language in bills that fall under their areas of responsibility.
The Appropriations Committee reviews all legislation for its fiscal impact and plays a crucial role in negotiating and developing the state budget. Each year, the panel holds a series of public hearings with leaders of state departments and agencies to study the governor's budget proposal and ensure taxpayer dollars are being utilized properly.
The Transportation Committee provides oversight of all operations related to the Commonwealth's multimodal transportation system, including legislation and policy on roads and bridges, public transportation, railroads, airports and ports.
The Communications and Technology Committee oversees legislative efforts to improve access to high-speed internet, ensure personal information held by state and local governments is secured, and considers state information technology improvements.
The Finance Committee has the primary role of reviewing legislation affecting Pennsylvania's tax codes, including any future tax increases or cuts. The committee also has oversight of the state Department of Revenue, Pennsylvania Department of Treasury, Pennsylvania Auditor General and the state's retirement boards.
The Intergovernmental Operations Committee is responsible for reviewing proposals to restructure and streamline state government.
You can find more information about Senator Rothman and state issues at www.SenatorRothman.com, www.facebook.com/SenatorRothman/ and at twitter.com/rothman_greg.
CONTACT: Morgan Wagner